Social Program
MED2023 will include an enjoyable social program, which will start with a Welcome Reception at the Conference Venue – Grand Resort, on Monday, June 26th at 7:30pm. Furthermore, the Banquet dinner will take place on Wednesday, June 28th at the beautiful village of  Lefkara.
Welcome Reception
Date: Monday, 26 June 2023
Time: 19:30 – 21:00
The welcoming reception will be held at the venue hotel offering us the first opportunity to meet and enjoy some drinks and snacks, overlooking the Mediterranean Sea.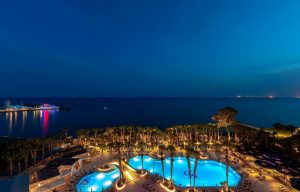 Tour to Lefkara Village &

Banquet Dinner
Date: Wednesday, 28 June 2023
Time: Departure time from the GrandResort (Conference Venue): 17:30
Located in the Larnaca region, the mountainous village of Lefkara is world-renowned for its traditional handicrafts of lace embroidery and filigree silver. The village is situated at the foot of the Troodos Mountains in the south eastern region, 650 meters above sea level. The crafts of lace and silver have been practiced in the village since Venetian times, and visitors can learn all about them, and watch the lace and silver being made at the various workshops within the village. Legend has it that the famous painter, Leonardo da Vinci himself visited the village in 1481 and bought a lace altar cloth, which he donated to Milan cathedral. The character of the village is very picturesque with its narrow, winding streets and traditional architecture of old, terracotta-roofed houses.  Points of visit will include the handicrafts center, church of the holy cross, factory of traditional delights making, silver shops.
Following the Tour, you will be transferred to Dafermou Winery for the Conference Banquet Dinner.  Located above the Lefkara Valley, Ktima Dafermou blends uniquely with the natural surroundings of the vineyards and the rolling hills. During the visit, we will have the opportunity to walk around the narrow streets of the village before we reach the restaurant, so I suggest you wear your comfortable shoes and since we will be at an altitude, a light sweater may be needed.
Access to the Banquet dinner (1 person) is included in the registration package. Additional tickets for the Banquet dinner can be purchased onsite at the registration desk. The cost is €110 (Euro) per person